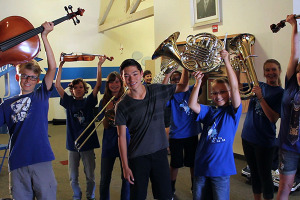 Strike Up the Band
Grades K-12
Strike Up the Band is a grant program by the Philharmonic Society of Orange County that aims to foster the appreciation of music within our community's youth and create meaningful impact on school music programs through the granting of musical instruments and teaching materials. The purpose of the grant is to enhance and grow existing music programs, support the creation of new music programs, or aid in the transition to online learning. Applications for the Strike Up The Band grant are open to music programs of any genre and size in Orange County schools, and schools may apply for grants valued at up to $10,000.
Examples of proposals can range from the request of new instruments to replace aging instruments, an infusion of additional instruments to serve a growing music program, or even instruments and teaching materials to create a new music program for a school. Applicants are encouraged to show the compelling need and impact the grant would have on their school community.
Since 2013, the Strike Up The Band grant program has been made possible by funds raised at the Philharmonic Society's spring gala, as well as additional community funding. Strike Up The Band has historically provided $35,000 to $65,000 worth of musical instruments and materials annually to school music programs in Orange County.
For more information, please contact our Education Department:
education@philharmonicsociety.org
---
GRANT CYCLE & INFORMATION

Applications for the 2023 cycle are now closed.
Please check back here in January 2024 for next cycle's application.
WHO SHOULD APPLY:
The STRIKE UP THE BAND grant supports public and private schools in Orange County at the elementary, middle and high school level. Any person or organization may apply for the grant on behalf of an Orange County school with the express consent of the school's principal.

GRANT GUIDELINES:
Any person or organization may apply for the grant on behalf of an Orange County school with the express consent of the school's principal.
Applicants may request a maximum of $10,000 worth of instruments/materials
All grants are awarded in the form of goods (musical instruments and teaching materials). No cash grants are awarded.
WHAT TO INCLUDE IN THE APPLICATION:
Proposal of program enhancement or new program if awarded grant
Overview of current musical program(s) including number of students served
Grant amount requested (up to $10,000 in value)
Prioritized "wish list" of instruments and/or materials
---
2022-2023 STRIKE UP THE BAND GRANT DECISIONS
We at the Philharmonic Society of Orange County would like to express our thanks to all the schools that applied for the 2022-23 cycle of our Strike Up The Band Grant. We received an overwhelming response with incredibly worthy applications, and it is clearer now than ever how great the need is in our community's music programs. For the 2022-23 grant cycle, we will be donating a total of $150,000 worth of goods to awardees.

The challenging task of making award decisions was made by a grant committee formed from representatives from all parts of the Philharmonic Society. Decisions were made based on multiple factors including the programs main mission of creating meaningful impact in music programs within Orange County.

2022-23 STRIKE UP THE BAND AWARDEES
Anaheim Elementary School District

Canyon High School

Cypress High School

Cypress School District

El Dorado High School

Fountain Valley High School

Golden Hill School for Creative and Performing Arts

La Paz Intermediate School

Laguna Hills High School

Liberty Christian School

Magnolia Science Academy

Mark Twain School

Northwood High School

Savanna High School

South Lake Middle School

Westminster High School

Woodbridge High School

Yorba Middle School
Awardees were contacted by the Philharmonic Society with the specific dollar amount of their request that would be funded, further instructions on how to receive their donated goods, and general post-funding requirements.

For those applications that were not funded in this cycle, we encourage you to apply again next year.

Thank you again, and we look forward to continuing the Strike Up The Band grant and the good it does in our community.