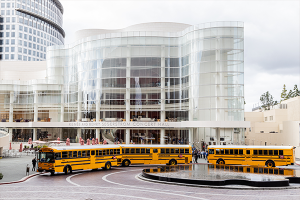 Fund the Bus Program / Transportation Scholarship
Grades K-12
The Philharmonic Society offers many of our programs free of charge, but we also understand that the cost of bus transportation can be a barrier that may keep your school from attending.
In response, we have created a Transportation Scholarship through our Fund the Bus Program, which may help remove these obstacles and ensure that every school has an equal opportunity to experience the joys and wonder of an in-person concert or program.
Applications for this scholarship will be available on the participation form for each Youth Music Education Program. Requests will be reviewed on a case-by-case basis and are not guaranteed.
For more information, please contact our Education Department:
education@philharmonicsociety.org